---
The test-dev dataset has been released on February 16th, 2020. The proposed dataset will consist of 100 high quality, Full HD video sequences (both RGB and Thermal Infrared), spanning multiple occurrences of multi-scale UAVs. We will build a challenge server on CodaLab which will be open for submission soon afterwards.
UAV Dataset
1. Folder Tree Diagram
2. UAV Dataset Scene and Model:
"Big", "Middle", "Small", "Day", "Night", "Cloud", "Building", "False Object", "Speed Change", "Hang", "Occlusion", "Scale Variation".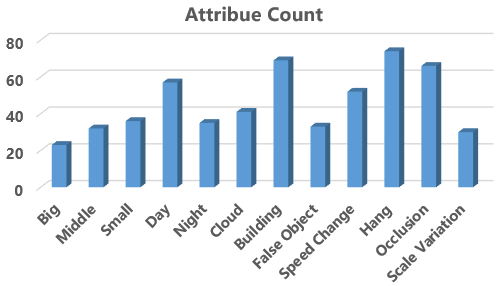 3. Division Rules
Here we only provide test dataset.
test-dev: 100 videos for testing your tracker.
test-challenge: 60 videos for the final submission.
Download
You can download test-challenge at Baidu Yun (y67q) / Google Drive
You can download test-dev at Baidu Yun (sagx) / Google Drive
News: * 2020/02/19: add IR_label.json
News: * 2020/04/08: upload test-challenge